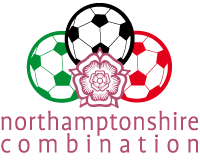 The Northamptonshire Combination Football League was formed in 1953 when the Mid Northants League and the Central Village League merged to become the Central Northants Football Combination the current name change was made in 1991.
Historically the league consisted of mainly village teams in around Northampton playing on private/parish council grounds. Consequently the Northamptonshire Combination now accommodates a wide range of teams, many from provincial towns using municipal facilities. This has resulted in the league becoming the predominate provider of Saturday 11v11 Adult football in the county.
The league provides competitive football across a wide range of abilities in 5 divisions. The league has also worked hard to improve facilities and achieve Step 7 status, which has enabled several clubs to progress up the pyramid.
Recently the league has developed its links with youth leagues in order to help facilitate the transition to adult football.
The leagues management committee consists of elected league officers and representatives from member clubs. Three mandatory meetings are held each year with member clubs in order to ascertain requirements and developed the league.